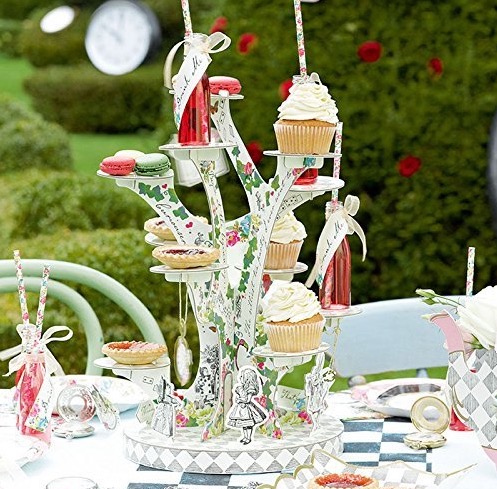 Alice in Wonderland, Truly Alice Tree Shaped Cupcake / Treat Stand/ Cake Stand/ Macaroon Stand
This is a perfect centerpiece for weddings, afternoon tea parties and other special occasions. This gorgeous card stand will hold a cupcake on each of the tree branches with plenty of space at the bottom for a small cluster of cakes.
Size: Height 38 centimeter. Diameter 23 centimeter. Self-assembly, Reusable wipe-clean card tree shaped cake stand.
Product description
Delightful, intricate and show stopping – a tree shaped card pretty cake stand.
A whimsical outdoor setting that will put the finishing touch to your party table.
Perfect for weddings, afternoon tea parties and other special occasions.
Holds plenty of yummy cupcakes, pastries, canapes, or any party food that needs showing off!
A perfect centerpiece for any celebration.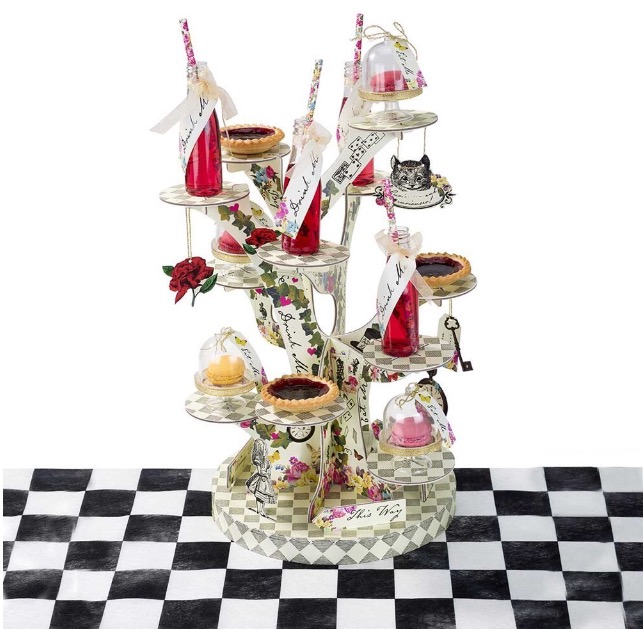 Perfect for birthday parties
You can keep chocolates in these pretty cake stand which is perfect for birthday parties
You can also display macaroons or any treats. This will look so splendid with the cake domes and the matching paper trays, cups and napkins. The children wouldn't keep their eyes and hands off of it.
These will really go well at Birthday. If you are an Alice in Wonderland fan, you can set up a Alice in Wonderland Party theme with this treat stand. You can also use the stand to keep lots of individual pots of Jelly for the kids.
Show case your baking skills on this cute and pretty cake stand
You will absolutely love this cupcake/muffin stand. You can take it to work and can show off your baking. It will give the wow factor. It will look great and it's so easy to assemble and its really sturdy.
Fantastic item, easy to put together and such a fab center piece for a tea party! It will look great with macaroons and jam.
Very nice, good quality and definitely worth the money.
Excellent addition to the buffet table. Really excellent quality and value for money and super-fast delivery.