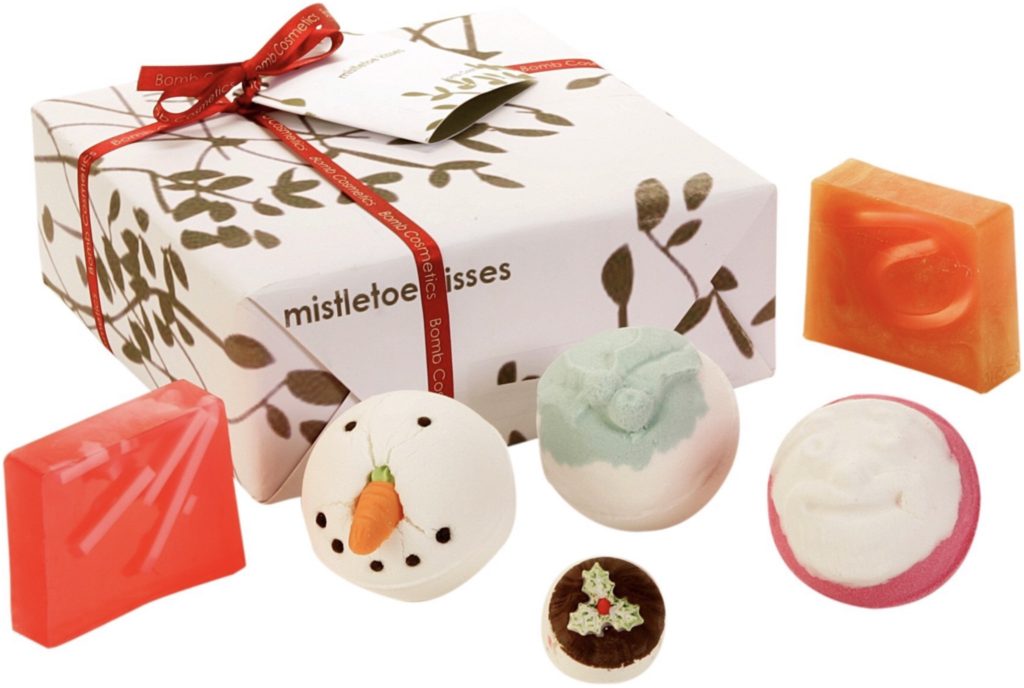 Mistletoe Kiss Gift Set for your lady for Merry Christmas.
Gift wrapped for that extra special present.
It will never fail to amaze you what things can make a woman happy. She will be over the moon with this beautiful and thought gift.
This great gift set is beautifully wrapped in a festive paper, tied with a lovely red satin ribbon and has a label describing the contents. It will look very beautiful under the Christmas tree and it will be an impressive gift, which all the recipients will be very excited to unwrap. The contents are securely wrapped in plastic and all placed inside the box with good quality natural straw to protect them and keep them in place.
The set consists of:
Christmas Wonderland Soap – Myrrh and Cinnamon
Snowtime like the Present Soap – Frankincense and Cedarwood and Gold of Pleasure
Ho Ho Holly Bath Blaster – Black Pepper and Cinnamon
Santa Baby Bath Blaster – Frankincense and Myrrh
Chilly Willy Bath Blaster – Sweet Orange and Cinnamon and Sandalwood and Black Pepper and Almond
We Three Kings Bath Creamer – Ylang Ylang and Geranium and Shea Butter and Cocoa Butter and Vanilla

Soap
The gift set consists of two amazing festive soaps, 100 gram each. "Christmas Wonderland handmade soap" is a lovely red soap with fine silver glitter and white snowflakes, which smells of cinnamon and mirth. "Snowtime Like the Present handmade soap" is a golden orange soap with pink and gold swirls and fine gold glitter, which smells of frankincense, cedarwood and Gold of Pleasure. Both soaps are very luxurious, foamy and moisturising.
Bath blaster
The gift box also contains three excellent bath blasters, 160 gram each. "Ho Ho Holly bath blaster" is a white and light green bath blaster, with a holly engraved on it, it has a very spicy and festive fragrance of black pepper and cinnamon. "Santa Baby bath blaster" is a white and pink smiley Father Christmas baby face, which smells of frankincense and myrrh. "Bomb Cosmetics – Chilly Willy Bath Blaster", is an adorable snow man face with a funny carrot nose and it has a fantastic fragrance of orange and cinnamon. All bath blasters are excellent, luxurious, moisturising and they leave the skin wonderfully scented.
Bath Creamer
Also, there is a lovely small, 30 gram, bath creamer in the gift set. "We Three Kings bath creamer" looks like a tiny Christmas pudding with a holly decoration. It is very precious, with its ylang ylang and geranium essential oils, and its Christmassy scent, reminiscent of gold, frankincense and myrrh. This is very rich and can turn a simple bath into a festive luxury.
Excellent gift set
Indeed this gift set is an excellent idea for Christmas presents but also great to give anytime, as it is so much fun.
This is an excellent idea even for post-Christmas gifts that will certainly be enjoyed. Spirit of Christmas is to give gifts but there is no reason why you should not indulge yourself with this affordable luxury. Highly recommended!
All cosmetics include a standard expiry indicator on their packaging, which indicates how many months you have to use it once it has been opened.
Bomb Cosmetics will never fail to impress. Beautiful packaging, lovely smells, melt thoroughly in the bath leaving your skin feeling soft. Above all the price is good for what you get.