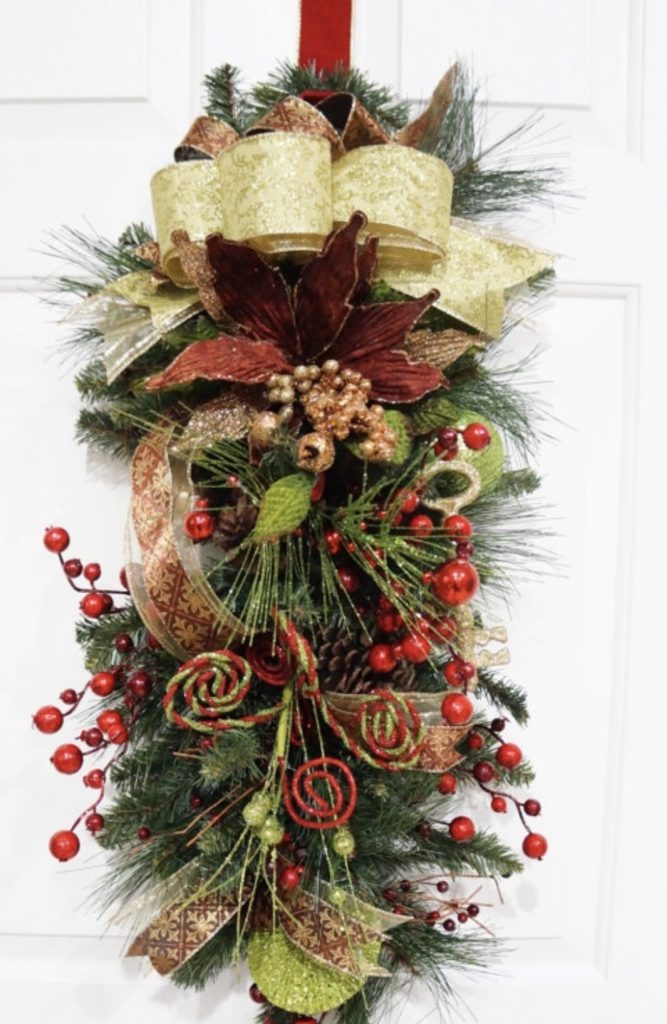 One of the traditional sights at Christmas is a handmade hanging on the front door. This hand made front door Christmas hanging is really eye catching one that will look ideal on any size of door.
Materials:
32inch Swag, Ponsettia, Berries, Lime Green Bow, Gold Bow, Brown and Copper Bow, Glue, Glittering ornaments
Make your Front Door elegantly marvel with this Brown, Copper and gold swag. The shimmering shades of gold, brown and copper will bring uniqueness and inviting to guest. Great way to dress up your front door, living area on a holiday season.
* Swag measures 11inches in wide and 32 inches in length approximately
* Artificial arrangement of glittering gold ornaments, copper ornaments and Christmas balls, brown ponsettia and berries
* Features Lime green, gold and copper bow.
* Great for dinning area , living area or simply at the front door
* Ready to hang
* Recommended the wreath be protected from direct sun, rain or snow to preserve the vibrant colour and integrity of the wreath.
* Ready to ship anytime
Buy on EtsyClick here to buy
This collection compliments warm and vibrant colours and helps to add character to your home. It is very flexible meaning you can place this in a variety of places around your home. It will look perfect on your front door. Make your dream Christmas a reality.
Handmade item
As the handing is hand made it gives a natural look. It will last for years if stored in a saf and dry place.
Multiple Uses
This Wreath can be used in a variety of places around your home such as the mantelpiece, your shelf, your wall or even your door.
Truly festive
This will add a very festive look to any house. This hand made Christmas hanging is absolutely gorgeous and very Christmassy.
Intricate detail
This hand made front door Christmas hanging has been decorated with a berries, bow, flowers, leaves. Some of these have been given a glitter finish and they all use Red and Gold colours to compliment your Christmas.
Ideal as a great Christmas gift! You can also include a handwritten card with a personalised message.