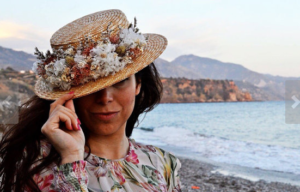 All eyes on you with real flower hat
Give your wardrobe a make over with hats. This trend-focused summer hat is ideal for everyday wear. No matter the hat, there's nothing that makes an outfit feel more complete than topping it off with a superb headpiece. You can be sure that all the eyes are on you if you can pull of the right matching wardrobe adorned with a fabulous hat. The summer could be your chance to adorn your first hat.
Hint from the style icons
It's easy to see why prominent style icons have been in the limelight for donning head-wear in their recent public appearances. Wearing a hat can make a basic outfit into a trendy, artistic statement. Versatility and range with this accessory is what makes it so popular. From the beach to the evening party, there's a proper hat for the occasion and the best bloggers are showing us how to accessorise with hats and make a memorable look. Hats can be lifesaver pieces for those less-than-perfect hair days and for moments when you want to appear elegant and fashionable, but don't feel particularly inventive with your wardrobe.
Your hat should be an extension of your face structure
Find the right hat for you based on
Round faces: The idea is to elongate your face but also to balance it. Choose tall, shallow crowns to give it length, or try peaked, slanted, or creased crowns. Brims that are wider than your face help to help bring balance and make your face look narrower by comparison.
Square faces: Elongate your face by choosing a hat that sits high on your forehead. Soft berets worn all the way up at the hairline and tilted off to one side look great on you, as do rounded bowler hats with rolled narrow brims.
Long faces: Go with a flared, wider brim and deep crown to widen and shorten the face. Cloches are a good choice for you, especially if they have a wider brim.
Hearts and Diamonds: Since your chin is the narrowest point on your face, avoid wide brims that will make it look narrower. Otherwise pretty much any style will work well on you.
Angular features: If you've got angular facial features, such as a square jaw or triangular nose, then look for hats to soften and complement those lines; think sweeping or floppy brims, drapey berets, and sculpted, folded, or asymmetrical shapes. Also look for hats that have prominent, asymmetrical trimming, such as an elegant, curving arc of feathers.
Summer Style
For summer, it could be in a lightweight material such as straw, rather than anything too heavy such as felt or velvet. If the hat is complementing a floaty dress or a two-piece in a soft fabric, a larger hat with a soft brim would work perfectly. And remember, you should always take the outfit that you intend to wear with you when you select your hat.
This summer hat with real flowers can be used for any special event, wedding or birthday party, festivals.
Handmade
100% natural straw lady's boater, Canotier.
All flowers are 100% real.
It comes in a standard size. Perfect for 57cm and 56cm head sizes. It must be a little loose.
Click here to buy on Etsyhat