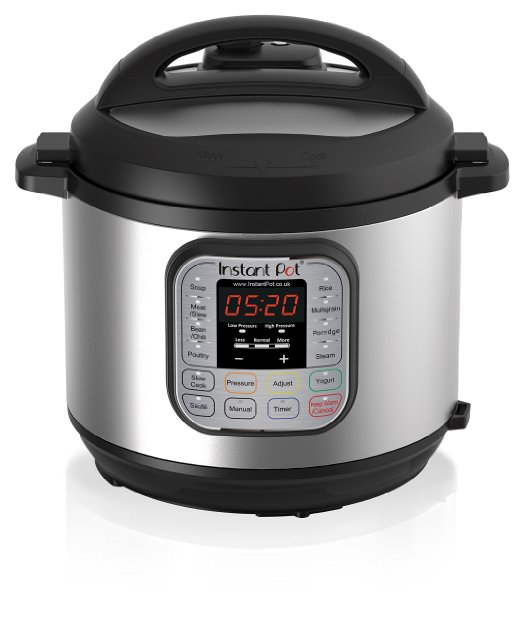 Electric Pressure Cooker speeds up cooking by 2-6 times and uses up to 70% less energy producing nutritious healthy food in a convenient and consistent fashion.
Instant pot Duo is a 7-in-1 Multi-Functional electric pressure cooker which can be used for either fast or slow cooking. You cook your favourite dishes with the press of a button whilst you get on
with other things.
Some of the features of the Instant pot Duo or electric pressure cook are as follows:
14 built-in smart programs which include Soup, Meat/Stew, Bean/Chili, Poultry, Sauté,
Steam, Rice, Porridge, Multigrain, Slow Cook, Keep-Warm, Yogurt, Pasteurise and Fermenting
Automatic keep-warm function
Energy efficient and kitchen friendly emitting hardly any noise, heat or steam
Stainless steel cooking pot
Comes with a recipe book and cooking time tables
Item Weight: 5 Kg
Comes in 2 Capacities: 6 litres or 8 litres
Product Dimensions for 6 litre capacity: 33 x 32 x 31 cm
The electric pressure cooker traps all the aromas in the food without heating up the kitchen. The brushed stainless steel exterior is finger print resistant.
Electric pressure cooker uses the 3rd generation technology with an embedded microprocessor, which monitors the pressure and temperature, keeps time and adjusts heating intensity and protects you with 10 proven safety mechanisms and patented technologies.
Box contains the following:
Electric Pressure cooker with stainless steel inner pot
User Manual
Recipe book with timetables
Steamer Rack
Measuring cup, Ladle, Spoon
UK 3 pin power cable
Make more time for other stuff
It is virtually silent in operation and transmits hardly any heat to the surrounding area – even on the hottest day you can cook a family meal in minutes. Ideal for RVs or boats.
If you live a fast paced, health orientated, green conscious lifestyle then the electric pressure cooker is specifically designed for you.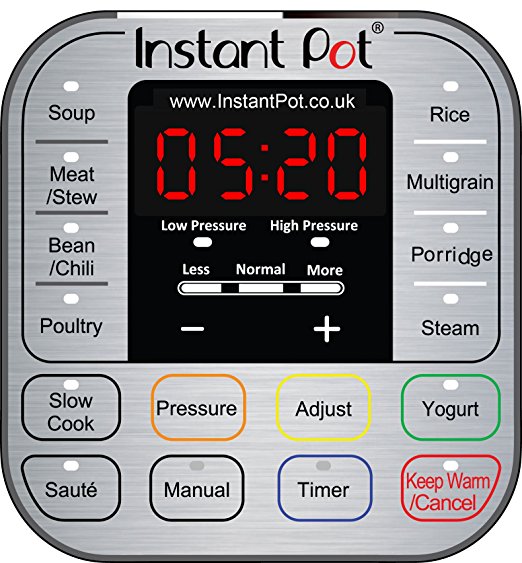 Easy to use, just press a button and walk away!
Instant Pot Duo electric pressure cooker has a larger control panel with 14 built-in smart programs to complete your common cooking tasks.
Want to cook a stew? Just add the ingredients, press a button and walk away. It is so quiet you will wonder if anything is happening.
Delayed timer and slow cooking function
You can delay your cooking time for up to 24 hours so that your food is ready when you want it– breakfast porridge or evening supper. You can manually set the cooking time for up to 120 minutes of pressure cooking time or up to 24 hours of slow cooking time.
Keeping warm function
When the Instant Pot has finished the cooking cycle it automatically switches to keep warm for up to 10 hours, keeping your food at the perfect temperature – ready when you are.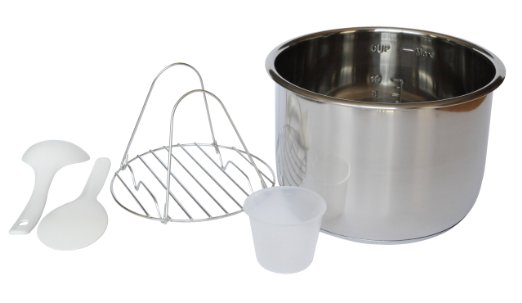 Stainless Steel Cooking Pot
One of the best features of the Instant Pot range is the Cooking Pot. There are no concerns about a non-stick coating peeling off because the Instant Pot Duo includes a dishwasher safe 304 grade stainless steel cooking pot with impact bonded base that can also be used on the hob (except induction) or in the oven. In fact the entire inner surface of the Instant Pot – including the lid – is actually stainless steel.
The cooker also includes a stainless steel long handled steam rack, rice paddle, soup spoon, measuring cup, instruction manual, recipe booklet with 29 recipes to get you started.