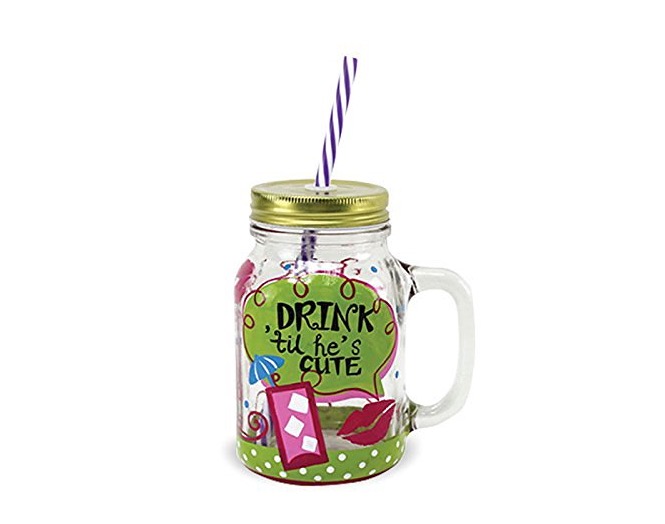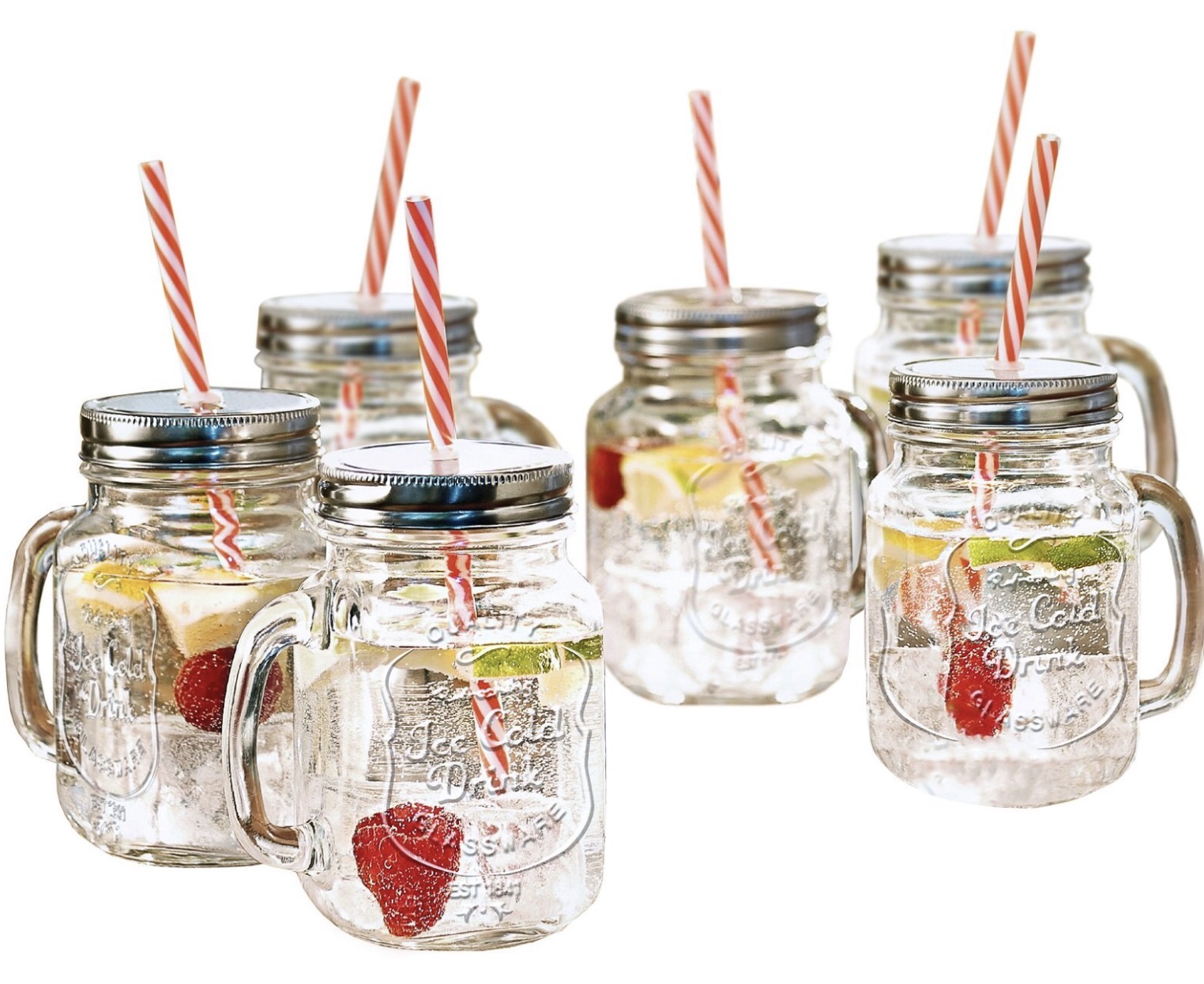 Always dreamed of sitting back and relaxing with cocktail in hand? Fancy hosting a cocktail party for all your friends and family? These novelty cocktail glasses/ jar are ideal for any occasion.
Jam jar drinking glass with handle
500ml capacity
Screw-top lid and reusable straw
Great gift for anyone
Happy Hour
'Why limit HAPPY to an HOUR?' and 'Drink 'til he's cute'. Great for serving any cocktails. Perfect for parties. These jam jar cocktail glasses are great when you're getting ready for a night in town with the girlies (or guys).
The jam jar glasses are made from solid glass with big chunky handles, screw-top lids and reusable stripy straws. A great gift for guys and gals with no limitations.
Cocktail at home – Perfect for pimms
Create a cocktail in the comfort of your home and make happy hour last as long as you like. T.G.I.F. Sip back and relax: Perfect for people who like a relaxing cocktail after a long day at work. Why down a drink when you can savour it? Decorated with bright and colourful swirls.
This jam jar cocktail glass is decorated with vibrant colours and is a fantastic choice for fun loving friends and family. Drink 'til he's cute: This jam jar glass is an amusing gift.
Perfect for summer – Great for summer drinks in the garden
These are perfect glasses for a summer's day! The size is ideal for a standard sized cool drink with ice / fruit etc and the lids will help to keep any buzzy creatures away. The writing on the side makes them more authentic than ones with just plain glass, and they are a good weight. Bring on the summer and the 'moonshine'!! You can use these jars when you have BBQ in the garden. Since they have a capacity of 500 ml, you don't have to top up frequently.
Stylish and practical
Drinking water can be so boring. Use this stylish jar to help you drink water. This can be kept in the office and you can sip water. As it comes with a lid, you can leave it at your desk. Get rid of your plastic bottles and use this glass jar.
Serve Lemonades
Serve your home made lemonade in this jar. It's a bit of fun serving in these jars.
Great product
Overall they are versatile glasses for any kind of occasion and for serving cocktails, fruit juices or even water. These glasses are great to drink from and hold a lot of liquid. They are great for the novelty factor. They are sturdy and of good quality.